Automatic titration has improved oxygen treatment in hospitals, and the time has now come to also use the technology outside hospitals to treat citizens in need of long-term oxygen treatment (LTOT).
O2matic Connectivity connects patients in home oxygen treatment with the health care providers by: 
Enabl

ing

 

central monitoring of automatic titration

 

at home.

The ability

 

to adjust the prescription for oxygen treatment centrally and transfer the configuration to

 

O2matic

 

HOT 

and

 

to

 

hospital systems

.

The

ability 

to exchange data with other systems through a secure interface.

 

Enabl

ing

 

other relevant equipment to be connected to

 

the

 

O2matic Connectivity infrastructure and

 

collect

 

data

.
Monitors and titrates oxygen based on the condition of the patient 
Today, citizens in oxygen treatment receive a fixed dose of oxygen, which is usually only adjusted 2-4 times a year. With O2matic Home Oxygen Therapy, HOT, we introduce a new way to treat patients with oxygen at home. O2matic HOT 100 has advanced software and AI that ensures an unprecedented and unique course of treatment for patients in their own homes, which is recognizable from the patient's hospital course. This patent-pending solution ensures that the patient does not have to become immobile by continuously wearing a sensor. Instead, the patient must take a measurement 2-3 times a day, which takes between 7 and 20 minutes. O2matic manages the rest and ensures that the patient receives the right oxygen supplement, and at the same time sends data to the central system. HOT 100 is intended for the treatment of adult patients over 18 years receiving oxygen at home (LTOT)
A great advancement for oxygen therapy
HOT 100 monitors and titrates oxygen based on the patient's condition and optimizes oxygen treatment by regulating the oxygen supply based on a frequent measurement of the blood oxygen content. HOT 100 is connected to the patient's existing oxygen source in the home, e.g. concentrator or bottle, and the patient's preferred nasal catheter or mask. The device also has the option of connecting additional equipment via Bluetooth®, e.g. scale, spirometer, blood pressure device. HOT 100 can work stand-alone, but it is also possible to connect it to O2matic Connectivity, which then continuously collects data. When the patient contacts the health service, the collected data can give the health professional staff a better basis for assessing the patient. 
CE Marked

O2matic is an IIB-classed medical device and is CE marked by TÜV SÜD.

O2matic ApS is ISO13485 certified.
Individually adapted oxygen treatment
The solution is CE marked and is based-on Microsoft Azure platform.
Provision of treatment data for use by healthcare professionals
Increased patient safety
Prevents hospitalizations by detecting worsening of condition earlier
Increased quality of life for the patient
Based on HL7-standard
Intended for patients
hospitalized with short-term increased oxygen demand due to:
Acute hypoxemia without risk of hypercapnia
Acute hypoxemia with risk of hypercapnia
Worsening hypoxemia during activity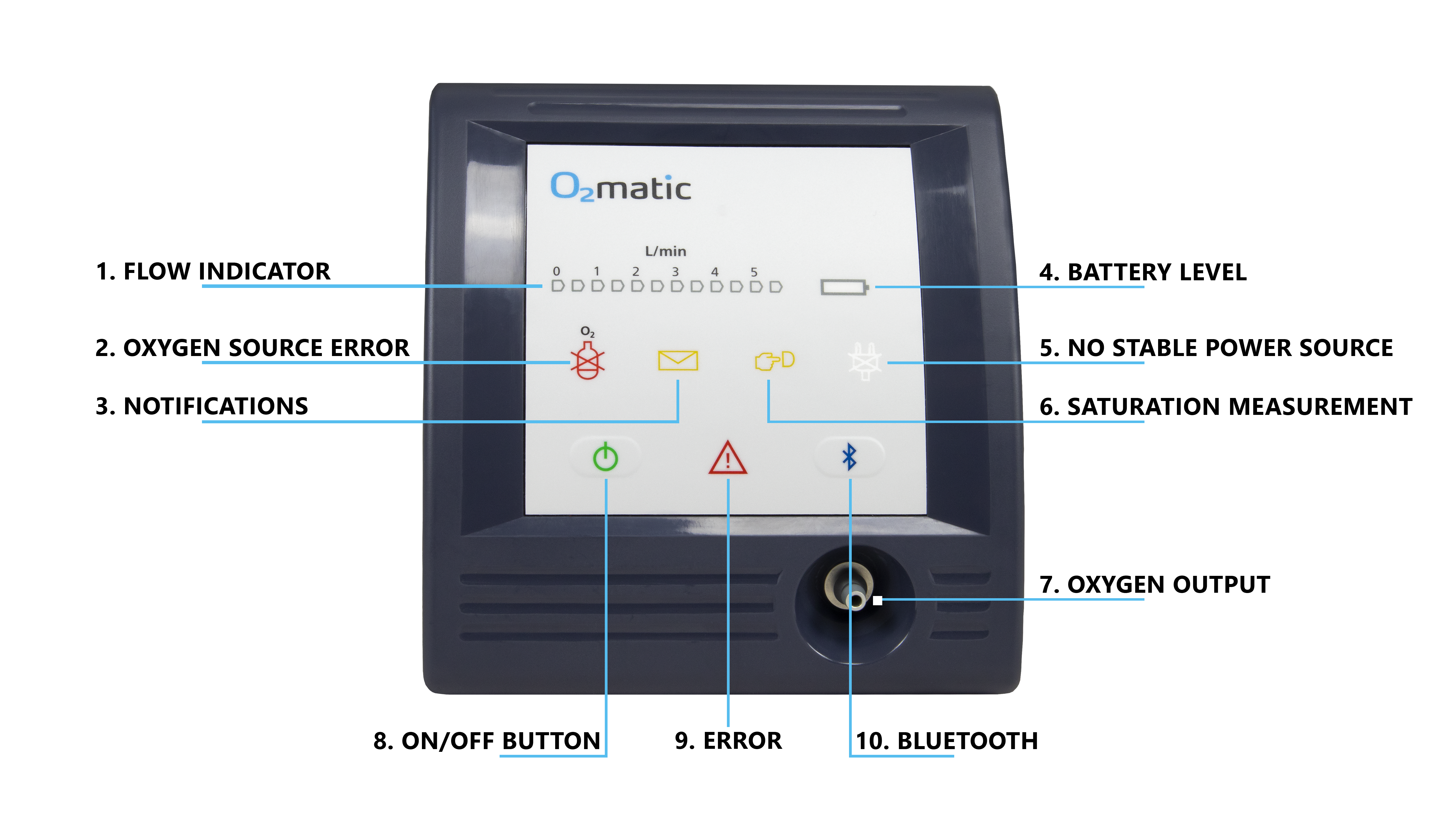 Downloads
Feel free to download our user manual, guides and other material.