Monitors and adjusts oxygen based on the patient's condition 
PRO 100 is an oxygen robot that optimizes oxygen treatment by regulating the oxygen supply based on a continuous measurement of the blood oxygen content. PRO 100 performs individually tailored monitoring and regulation of oxygen dosage using an advanced algorithm and input from a pulse oximeter.
A giant leap for oxygen treatment
A sensor (pulse oximeter) measures the patient's blood oxygen level, and PRO 100's advanced software automatically adjust the dose of oxygen accordingly. At the same time, the PRO 100 monitors the patient's well-being and gives a signal if their condition requires attention.
Advantages of automatic oxygen treatment
Reduces risk of hypoxia.
Automatically adjusted oxygen flow that keeps SpO2 within the desired range.
Automatically titrates oxygen.
Close and continuous monitoring of oxygen treatment.
Alarm function that notifies of changes in the patient's condition.
Meets Danish and international guidelines for oxygen therapy.
CE marked
O2matic PRO 100 is an IIB-classed medical device and is CE marked by TÜV SÜD.

O2matic ApS is ISO13485 certified.
Read our latest white paper
Get our latest white paper about automatic oxygen therapy and the studies behind it sent to you by filling in the following: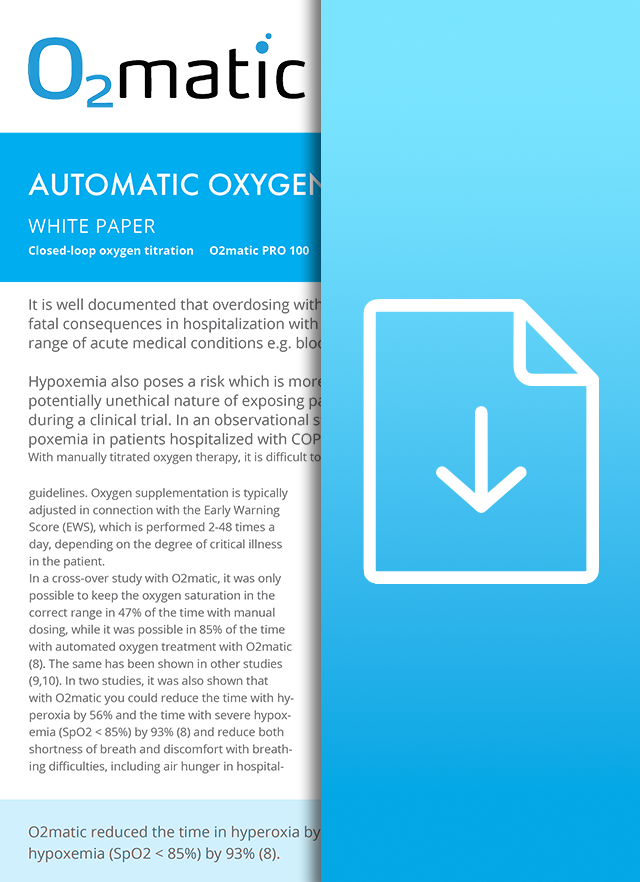 In December 2018, the first clinical results with the O2matic PRO 100 were published in the International Journal of COPD. The study included 20 patients admitted with COPD in a crossover trial where the patients were first treated for 4 hours with automatic oxygen titration using the PRO 100 followed by 4 hours with manual oxygen titration by the nursing staff. The results of the study show the difference between manually titrated oxygen by nursing staff and automatic oxygen titration with PRO 100. During manual titration, patients maintained the desired oxygen saturation for 47% of the time against 85% of the time with treatment with automatic oxygen titration. At the same time, the study shows that patients only have an oxygen saturation lower than 85% (SpO2 <85) in 1% of the time, against 18% of the time with manually titrated oxygen treatment.
In October 2020, another clinical study was published with the O2matic PRO 100. This study deals with the treatment of patients with COVID-19 and shows the same clear improvement as the first study. The study is published in the European Clinical Respiratory Journal and showed that patients maintained an acceptable oxygen saturation for 94% of the time.
Yet another study with O2matic PRO 100 was released in October 2021.
The study is published in the Journal of Clinical Medicine and showed an increased endurance when using O2matic PRO 100 during rehabilitation of Chronic Hypoxemic Patients.
In this study, the researchers found an increase of 98% in the time used walking before fatigue.
Without automatic titrated oxygen, the patients could walk 5.5 minutes, and with our technology the patients saw an increase in walking ability to 10.9 minutes in average. Our webinar called Why oxygen robots could be a game changer" goes into depth on this topic.
Learn more about the studies from our videos above.
O2matic PRO Reduces breathing discomfort and dyspnea in patients with acute exacerbation according to a multicenter randomized control study that was published in International Journal of Chronic Obstructive Pulmonary Disease. Alleviating dyspnea by O2matic PRO may therefore not only impact the patients' quality of life, the length of hospital stays, and nurse resources, but may also be a potential palliative intervention across different etiologies.
| | | |
| --- | --- | --- |
| COPD study | O2matic | Manual |
| SpO2 above target | 5% | 10% |
| SpO2 within target | 85% | 47% |
| SpO2 below target, above 85% | 9% | 25% |
| SpO2 lower than 85% | 1% | 18% |
(% of the time measured)
Downloads
Feel free to download our user manual and other material.